How to choose the best credit card in Malaysia?
Did you ever stumbled on hard choices, or were sank in tonnes of information, confused and disorientated? Which mobile phone is better? What insurance to choose? How to pick the best credit card in Malaysia for precisely your need? Well, suffer no more – Boleh Compare is here to rescue you. It is a really genius service, which is committed to helping people find the right product at the cheapest price, and educate people in banking, insurance, mobile and broadband products, so they can improve their financial situation. To put it simply – Boleh Compare is a comparison platform, that gathered lots of products altogether and made a table of them, showing you all pros and cons. And today we're gonna take a closer look at Malaysia credit card comparison.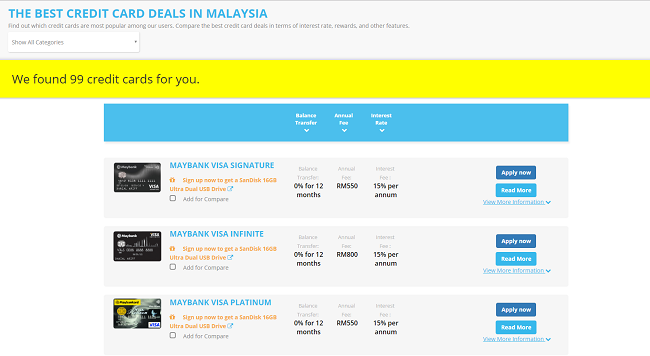 Boleh Compare included in their table about 100 credit cards, which is quite impressive, and classified in such terms as rewards, interest rate, credit card deals and other features. Let's specify, which the most popular credit cards are.
Here definitely goes Maybank credit card Malaysia, which holds almost 30 positions. Alongside with them comes lots of Malaysia credit card promotions, although pretty much all of them are freebies when signing up type promo. Yet it still better, then nothing, isn't it?
The second place is shared by UOB credit card and OCBC credit card Malaysia. Take note, that exactly UOB Preferred Platinum Mastercard is the best cash rebate credit card Malaysia can offer.
And the third place is also divided, but now between CIMB and Citibank credit card Malaysia. And by the way the CIMB Enrich World and Elite are one of the best business credit cards because they have an instant bonus in Enrich Miles and other features, that suit for business travels.
And now a quick word about exactly what kind of information gives Boleh Compare. As you see, in the main table there is vital information about balance transfer, annual and interest fee, credit card deals. Tick the box to select several cards you like most, so you can easily filter them. And, yes, you absolutely are free to filter by any of those parameters to see at first low-interest rate credit cards, for example. Also, you may click on the "Read more" button to proceed to more detailed info page. There you'll find such paragraphs as cashback, rewards, balance transfer, travel, low interest, all about fees and charges, requirements and, of course, promotions. Back to the main table, please note a very handful opportunity of online credit card application in Malaysia. Simply press "Apply now" and follow the instructions.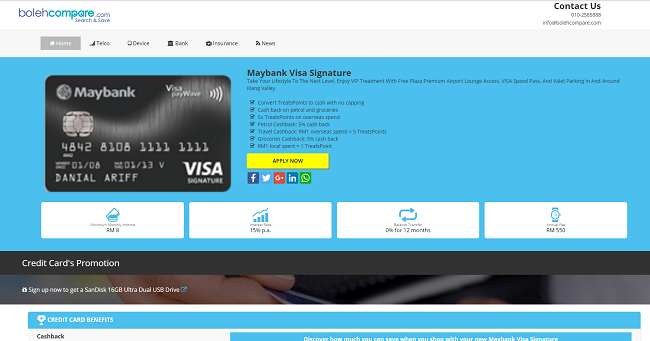 No need in visiting main bank websites and digging in a huge mass of information. No more headache from comparing dozens of Malaysia credit cards, no more scattered notes all over the workspace, no more wasted time. Boleh Compare did all the job already. All you gotta do is lazy click on the chosen one and apply credit card online Malaysia. That's it. You're great and you did it. Cheer up, be smart, save time and use Boleh Compare.
The easiest way to compare credit cards