Lazada Everyday Bank Promotions
LAZADA is a well known online shopping centre in Malaysia, created in 2012. The store has gained a lot of popularity across south-east Asia owing to how effortless it has made shopping. Customers can be assured of getting the best selection of superior products gathered from different sellers, ranging from electronics & gadgets, fashion & beauty, kids toys & baby items, home improvement to sports & travel essentials. The best part of it all is the deals made available every day for customers to save on their purchases. Shopping online has never been more convenient, easy & rewarding at the same time. As if these benefits were not mind-blowing enough, Lazada provides a modern way of online shopping using your credit cards. Make buying things online ten times easier & convenient.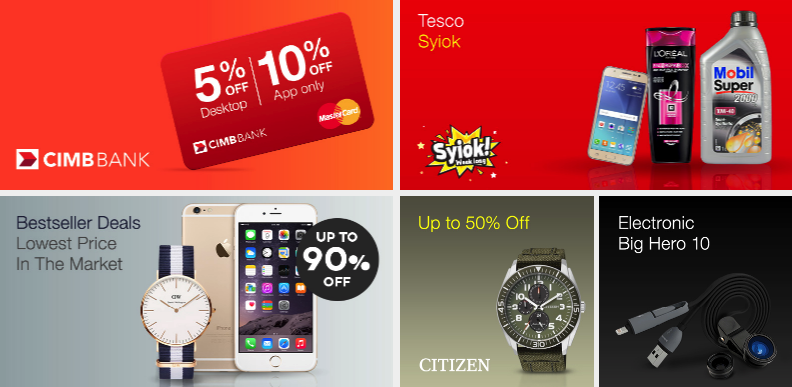 DAILY BANK DEALS
Spoil yourself with daily deals provided by Lazada partners. These partners include some great Malaysian banks that offer fantastic deals giving customers extraordinary shopping experience. The unbelievable deals and offers are provided by banks on an everyday basis to make shopping as mind-blowing and as amazing as possible. Among the banks are UOB, CIMB, MAYBANK, RHB & HSBC banks, all reliable and dependable.
UOB Bank starts off the week by providing deals with every Tuesdays, MAYBANK every Wednesdays, RHB Bank every Thursdays, HSBC Bank ends the week with fabulous Friday deals, CIMB Bank makes weekend shopping extra rewarding with Saturday & Sunday deals. Each bank has a promotion page dedicated to it on the website, where many products, including sleek tablets, latest smartphones, trendy clothing, kids toys & more, have been gathered at reduced prices. Customers who shop via desktop get a reward of up to 5% off their purchases and App users get a huge 10% off their buys without the need for codes. The deals are valid for purchases made using a select bank's visa or MasterCard card.

Terms & conditions for the bank deals
The offers are valid on items that carry each select bank's stamp.
Discount can not be combined with other offers or coupon codes or accumulated.
Offers cannot be redeemed for cash or refund.
You have to sign up for an account on Lazada to retrieve discount.
Each bank offer is specific to an allotted weekday.
Payment has to be made with the specific bank's credit or debit card.
Offers might apply to only a select number of products.
Also, as Lazada offers so many credit card promotions, it is crucial to know which card and bank suits you the best. We would recommend checking out Bankbazaar Malaysia for banks/cards comparison and top promotions and savings for the type of the card you choose.
Visit LAZADA today, search for bank deals, sign up for email offers and start saving on your buys. Shop to your heart's filled with these daily bank deals and you will have no regrets.
Also, learn how to save with Zalora bank promotion to take your shopping experience to the next level.
Enjoy Everyday Offers for Lazada
Show more Lazada Malaysia