How To Use, Where To Find and Where To Apply Bank Promotions
Hey, there! ILoveBargain Singapore team, as an expert in coupon code savings, wants to tell you more about bank promotions and how to get the maximum benefit of them. For the last couple of years, bank offers became enormously popular. And this is not a surprise - we so get used to paying online with our credit cards, that banks decided to get double advantages. Double, meaning for both you, valued customers and credit card holders, and banks themselves. Credit card companies aka Banks can attract new clients and you can enjoy extra savings for clothing, groceries, travel and a lot more things.
Things might get twisted and you can question yourself how to use a coupon from the bank. Well, when you have everything sorted out, it becomes much easier. So, the main questions you may have are:
where to get bank coupon code
how and where to use it
what benefits do I get?
First, only credit or debit cardholders can qualify for certain benefits. So, you need to apply for a credit card (you can easily do it online). As you performed this step, visit your bank's online website. Usually, all offers are gathered in the category "Promotion" or "Credit Card Promotion". Start your hunting for the best credit card offers. Many Singapore banks let you sort credit card offers by type, like Travel, Online Shopping, Food and more.
From the other side, there are a lot of banks and types of cards (like Visa or MasterCard enabled). That's why ILoveBargain Singapore did all the hard work for you and found the best credit card deals and coupon codes. Now, as you have 1 or more codes it's a high time to apply it. This brings us to the next step.
How to use a coupon from the bank?
Select the offer from the bank. Review all termsT&C.
Press link to go to promotion page.
Head to the shopping cart or checkout. Coupon code fields are usually placed there.
Key in or copy the promo code.
Well, pretty easy we assume. Commonly, T&C may require to make credit card payment with certain cards (e.g. only HSBC Visa Credit Card or OCBC Platinum Credit Card). And coupon code itself often goes in the form of a combination of your credit card numbers and some letters. It may vary and depend on the bank, though.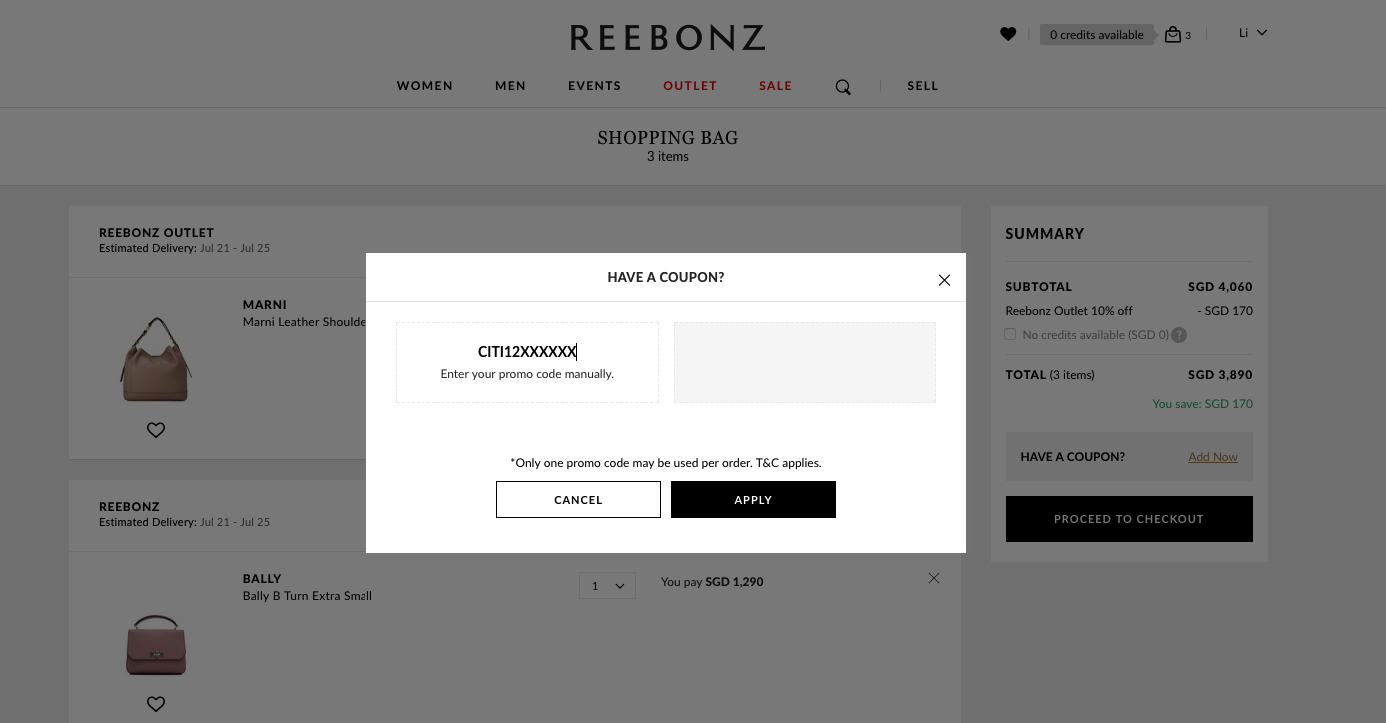 And now, back to benefits. If you ask us which credit card is best we won't be able to answer you and name one. Because every bank in Singapore provides so many options! Some may be preferred by travellers, some by regular online shoppers. To check the best rewards credit card or offer cards you can check our articles about HSBC and OCBC credit card promotions. Yes, benefits themselves may include
discounts on products
earning miles
cashback
privileges
premium access
and a lot of lot more.
Summing up, we hope you will have time using offers from banks. We did our job to find the most current deals and really hope they will help you with saving some money.